HAICO High-Speed Treadmills – 4000 and 5000
SEVERAL ADVANTAGES FOR TRAINING, REHABILITATION, RESEARCH AND DIAGNOSING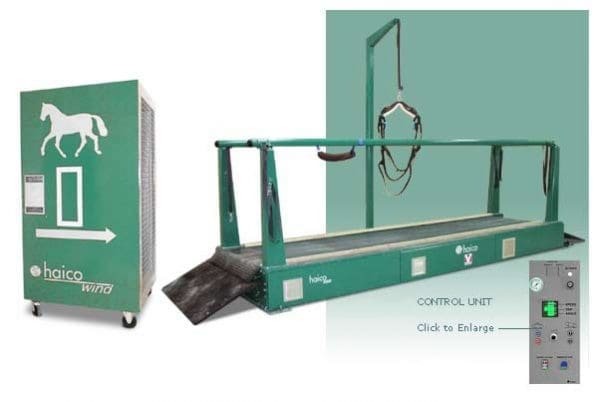 Ideal tool for professional trainers with race horses
No weather restrictions
Control of speed, distance, uphill and much more
Reduced impact to legs – running surface of Haico treadmills matches to turf – no hoof problems
Increases muscular power and quality of gaits
Horses work willingly on treadmill due to very low construction and silent structure
More horses can be trained in a shorter period of time
Conditioning can be started as early as 6 months of age
Gait can be followed accurately at any time and running speed
Diagnosing of lameness
Performance testing with Haico SH standard exercise test (SET) and Competition exercise test (CET) or individual tests, full possibility for programming
Optional automatic run or manual run
Optional automatic pulling load unit for increased stress
All functions can be controlled either manually or automatically via Touch Screen control unit
No service or oiling points makes using easy and trouble free
Wide range of safety equipment for secure using as standard
No large space requirements and long life time
Technical details
And for veterinarians
Controlled environment for evaluating lameness
Observations and filming of horse gait
Endoscope and heart functioning under controlled stress
Oxygen and CO2 examination
Performance testing with Haico SH Standard exercise test and Competition exercise test (CET) or individual tests, full possibility for programming
No large space requirements
Fast acceptance of horses due to very low and silent structure
High level of reproducibility of trials
Safe and easy to use
Downloads
Extra equipment
Researches have established that a very high similarity exists between the surfaces found in nature grass and that of the Haico treadmill. The naturelike surface doesn't strain the horses legs even in strenuous training. Haico Treadmill selection consists of two standard models. Both treadmills are designed for high speed training. They offer the following advantages:
Low running surface height allows installation on the floor.
Service free low-friction belt structure. Separate cooling inside the treadmill enables continued use. Compact, steplessly adjustable weigth unit inside the structure. Contrary wind blower follows the speed of the belt.
Soundproof compact structure. Totally isoleted frame from the floor by rubber pads. Dung is hurled automatically away from the back. No oiling points.
Adjustable width of the safety rails, horse stays safely in the middle of the belt.
| Measures | Model 4000 | Model 5000 |
| --- | --- | --- |
| Length without ramps | 4500 mm | 5500 mm |
| Length with ramps | 6500 mm | 7500 mm |
| Weight | 2000 kg | 2400 kg |
| Running surface | 1,15 m x 4,1 m | 1,15 m x 5,1 m |
| Height of the running surface | 370 mm | 370 mm |
| Speed range | 0-54 km/h | 0-54 km/h |
Touch screen control unit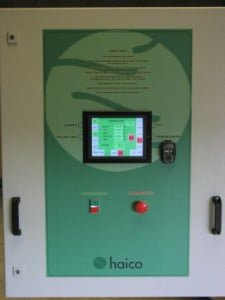 Manual run screen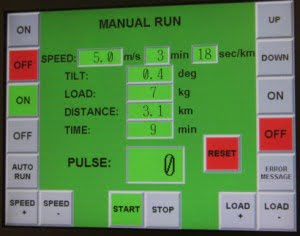 Automatic run screen